The PlacerArts Studios Tour Celebrates its Silver Anniversary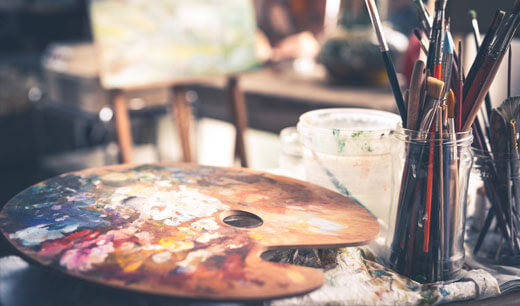 A Placer County event enjoyed since 1993, the PlacerArts Studio Tour returns for its 25th year.
A self-guided exploration of participating galleries across Placer County, the PlacerArts Studio Tour takes place on November 9, 10, and 11, 2018 from 10am to 5pm.
Take in the creativity of artists from 11 communities during this year's tour. Visit the 23 individual artist studios, 16 multi-artist studios, and 5 galleries participating in this free event.
Ready to get started? Here's how you can take in the creativity and talent during this year's tour.
Get the PlacerArts Studio Guide
Get the free online PlacerArts Studio Tour Guide and you'll find everything you need to locate your favorite artists or discover studios near you.
Find an artist directory, maps, examples of the work you'll find along the way and even a recommended itinerary for your trip.
Hit the Road
Participating artists and studios can be found across Placer County in Auburn, Roseville, Granite Bay, Rocklin, Colfax, Lincoln, Loomis, Meadow Vista, Newcastle, Penryn, and Dutch Flat. You can visit a studio near you or make a day of it visiting artists across the county.
Look for Auburn Artists!
Auburn has 8 individual artist studios and 8 multi-artist studios participating in this year's studio tour.
One of the studios on this year's tour is Old Town Auburn's Aimee Alexander - look for her at Artisticle at 111 Sacramento Street.
Other participating artists in Auburn include:
Dottie Phelps-Visker
Diane Tharp
Ardith Gray
Gary Lord
Nicholson Blown Glass
Jennifer Johnson
Gretchen Davis
Emilie Righetti
Paul Harman
Mary Chris Hines
Pamela Albright
Kathy Sinclair
Alex Constantino
Chris Brown
Chris Francee
Ryan Hack
Jeannie Kaiser
Patty Peiropan-Dong
Franco Rasgado
Susan Holloway
Lindsay Platz
Cathy Cline
Linda green
Jim Lee
Candi Martin-Baker
Christiane Raymond
Max Redpath-Kennedy
Frank Ordaz
Janet Paehlig
Dana Ross
Cheryl Lewis
Andrew Johnson
Artists and their studios can be found all thoughout Placer County, so you can find one nearest to you or take a road trip exploring all of the studios on our tour this year.
The PlacerArts Studio Tour has given local artists a chance to showcase their talent and work for 25 years and his year's show is no exception. A wonderful opportunity to support the arts in your community, come out and enjoy this year's art tour and help celebrate its silver anniversary!