Stella Mural Celebrates Art and Culture in Downtown Auburn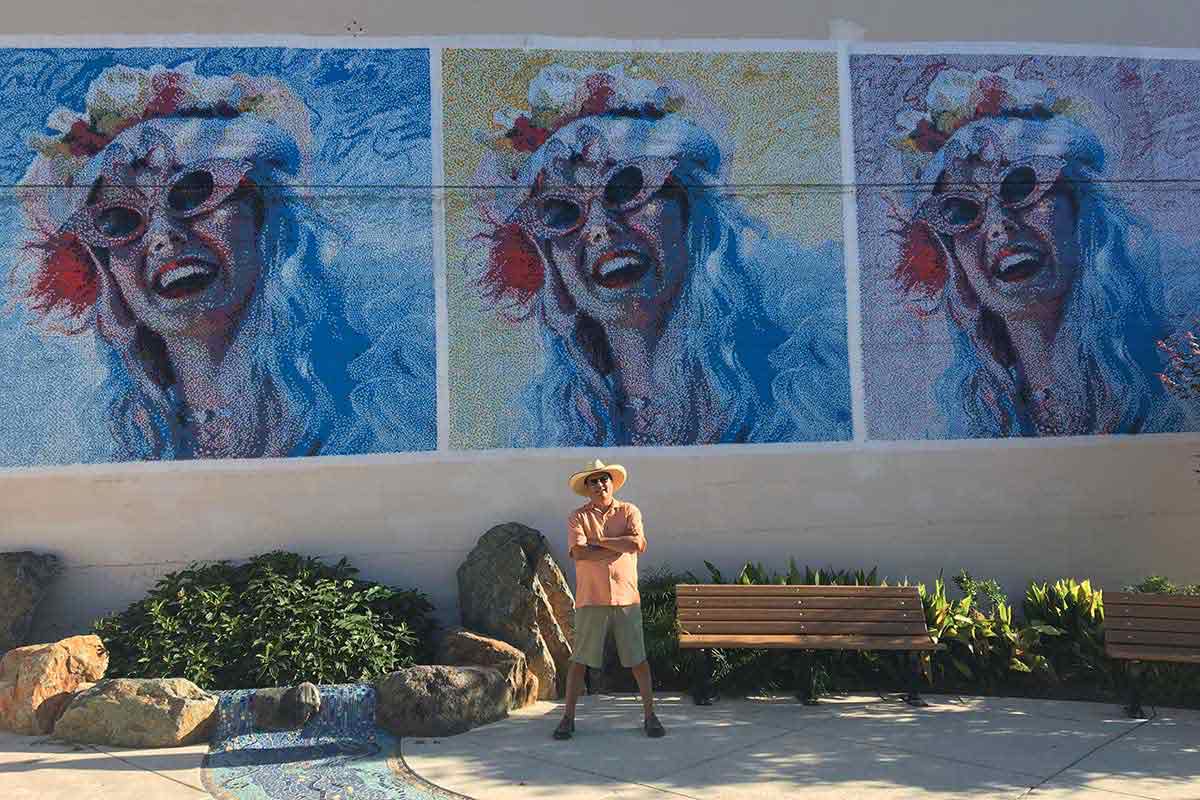 A burst of joyful color adorns a building wall on High Street, in Downtown Auburn, CA. A triplicate image of a woman's face, mouth open in exuberant laughter and eyes covered by a pair of pink flamingo sunglasses, looks over the Central Square Art Park.
Who is this merry muse?
This is the story of Stella, Stella, Stella.
The Story of Stella, Stella, Stella
Stella's story begins with the Auburn Arts Commission, The Auburn State Theatre, and a spray-painting robot from Estonia named Albert.
Mihkel Joala, a street artist from Estonia, developed a robot that could paint murals up to 100 times faster than muralists. He named his robot Albert and founded a company, originally called Sprayprinter and known today as Robot Muralist.
In 2018, Auburn Arts Commission member Kristiina Grumley found out her friends from Estonia had invented Sprayprinter. Kristiina and her husband, Dan Grumley, were inspired to bring this innovative technology to Auburn, CA.
In September of 2018, Albert was deployed to paint not one but two murals in Downtown Auburn: one adorning the back wall of the Auburn State Theater, the other smiling down on the Central Square Art Park.
Artist Frank Ordaz's Stella Becomes Larger-than-Life
Stella, Stella, Stella the mural is inspired by Stella Stella, a fine-art painting by Frank Ordaz.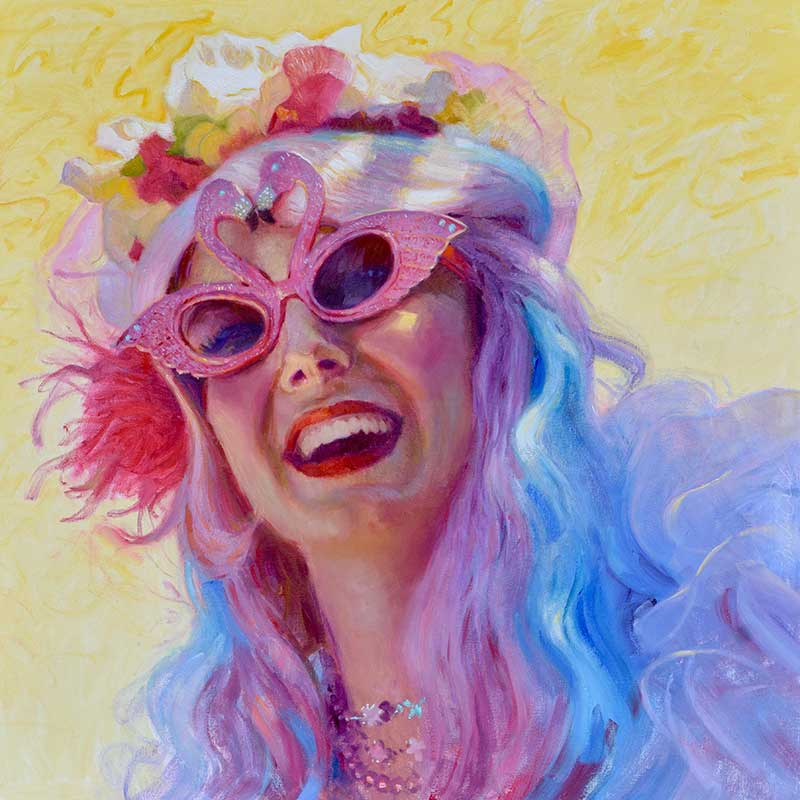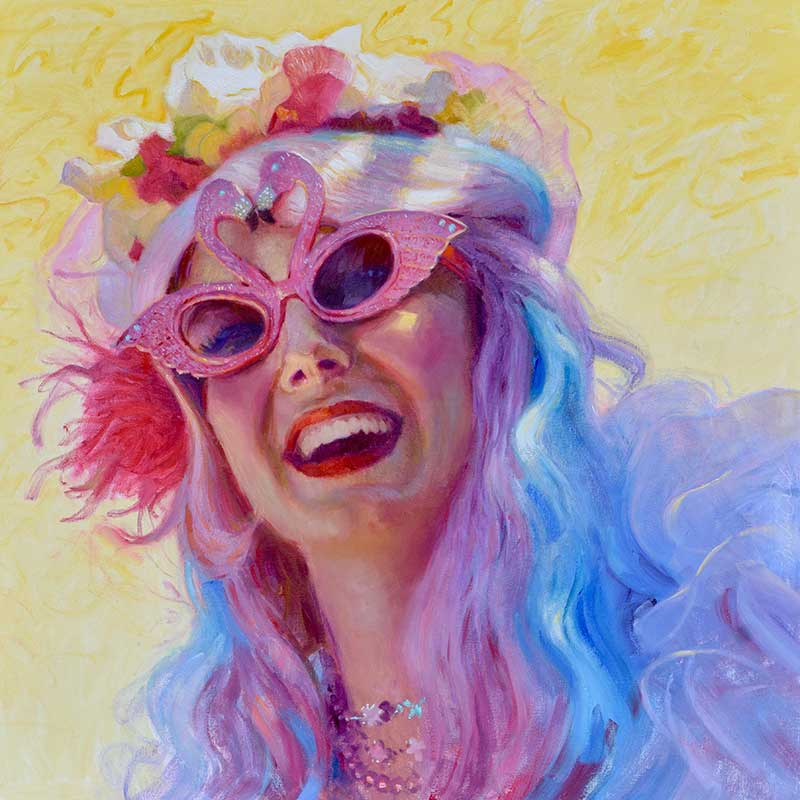 Ordaz tripled the image and adjusted the colors to best fit the building space and pointillism-like spray-paint medium (Albert the spray-painting robot uses millions and millions of 1cm dots to create large-scale artistic images).
Ordaz is a California-native whose studio/gallery, the Ordaz Gallery, is located in Downtown Auburn on Lincoln Way.
Since he was a young child in Southern California, Ordaz wanted to be an artist and was fortunate to have parents who supported his talent. Ordaz's father, a semi-pro boxer, exchanged handiwork for fine art lessons for his 12-year-old son when the family couldn't afford them.
Ordaz has been a professional full-time artist since he was 21 years old. He worked as an artist painting backgrounds for films such as E.T, Star Trek, Indiana Jones and the Temple of Doom, and Return of the Jedi. For a while, Ordaz dabbled in book, magazine, and movie poster illustrations.
But his first love was fine art and portraiture, which the artist has since returned to. His studio-gallery, the Ordaz Gallery, features his fine art landscapes and portraits.
One of Ordaz's portraits was inspired by a local Auburn figure: a "fun-raising" philanthropist with a taste for glitter and performance art.
The Sugar Plump Fairies: Inspiration and "Fun-Raising" for the Arts
Since 1997, the Sugar Plump Fairies have been delighting Auburn, CA with their philanthropic antics, creativity, silliness, costumes, and "fun-raising" efforts.
The Sugar Plump Fairies raise funds to help introduce all forms of art to the youth of the greater Auburn area. In 2018, the Auburn Arts Commission nominated the Sugar Plump Fairies for an arts and culture award in honor of their efforts.
Sugar Plump Fairy "Lemon Drop" serves as the Vice President of the Sugar Plump Fairies Board of Directors, and she was the inspiration for Frank's original Stella Stella painting and the Stella, Stella, Stella mural.
While working inside his studio on a bright spring day, Ordaz spied the Fairies parading around Downtown for an event. He snapped some pictures and, moved by her dazzling smile, began to paint the portrait that would later become the mural.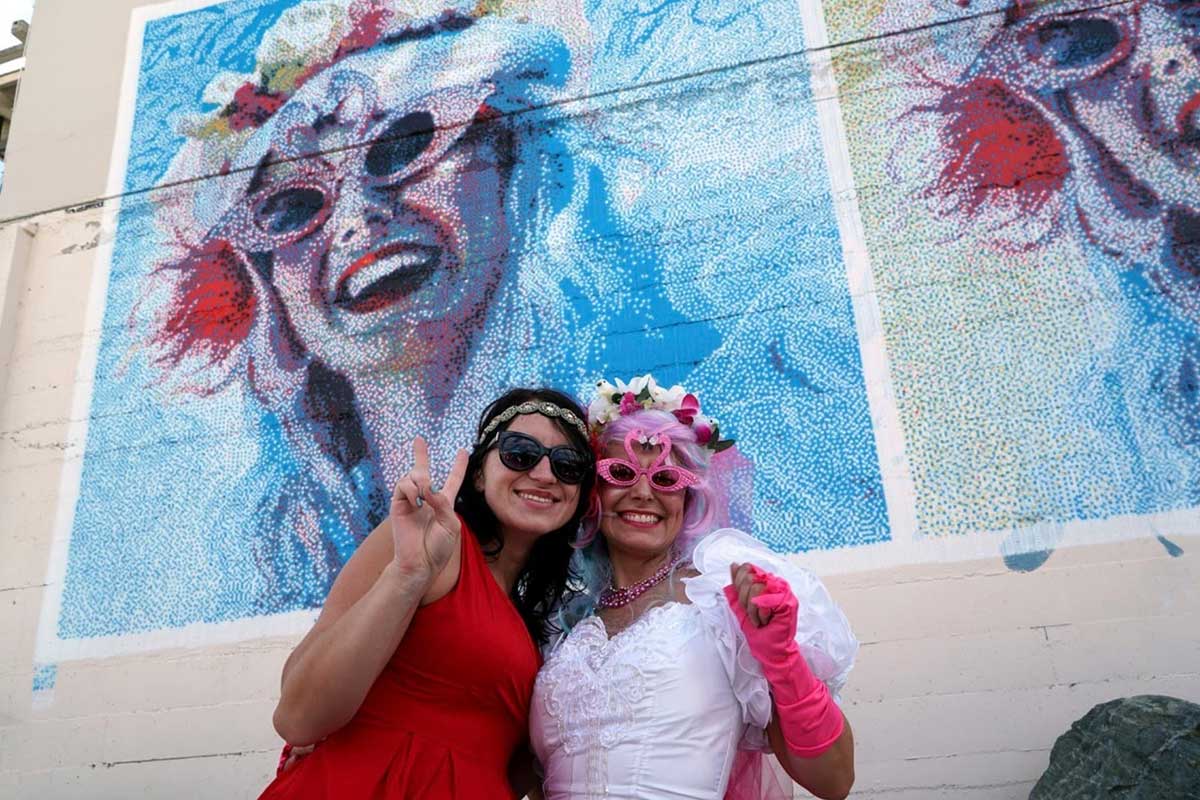 Image courtesy of wescover.com
 
In September 2018, Stella, Stella, Stella was unveiled. The mural took 1 day to set up and 4 hours to complete, thanks to Albert the Robot Muralist.
But the robot wasn't the only one to take credit for the successful installation of the mural.
City Council member Bill Kirby generously donated the $5,000 needed to install the mural in the Art Park. Ordaz provided the art, the Sugar Plump Fairies provided the inspiration, the Arts Commission worked tirelessly to bring the mural to life, and local musicians Brotherly Mud wrote a song to celebrate the occasion.
Poet Lisa Dominguez Abraham wrote the following poem inspired by Ordaz's original Stella, Stella painting. Today the poem is displayed on a sign next to the mural, for visitors to enjoy when they stop by Auburn's Central Square Art Park.
Disguise, by Lisa Dominguez Abraham
How the gods love disguise--
we coax you
to look into mirrors, to gaze through
pink lenses. Light is a carnival,
radiant, and this brilliance
cascading from above
that skips off my sequins
and jubilee grin
saturates you too,
dares you to open.
Believe it or not, despite each
news flash after flash,
your charred lungs and torn heart
still haven't sealed out
song. Snap awake--
Smile back.
You can see Stella, Stella, Stella in-person at the Central Square Art Park, at the corner of Lewis and High Streets in Downtown Auburn, CA.