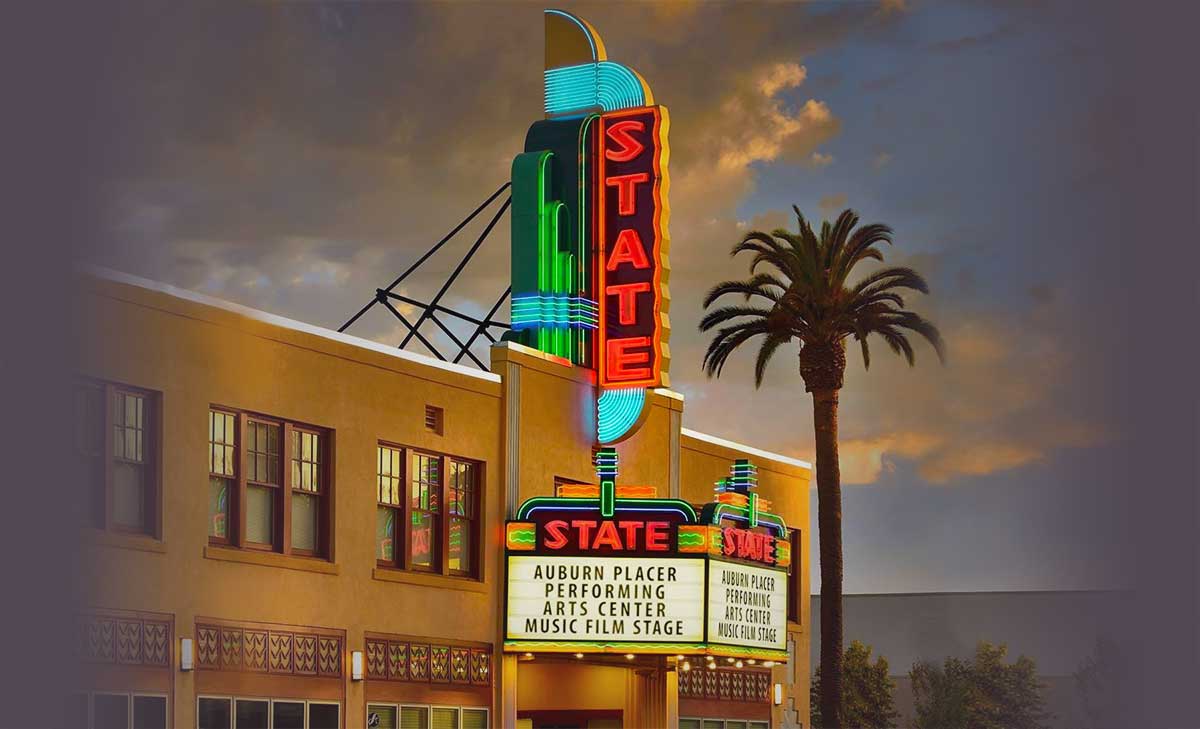 The Auburn State Theatre is an iconic, historical landmark in downtown Auburn, CA. Since 1930, the 340-seat, beautifully restored Art Deco performing arts center has delighted audiences with concerts, plays, movies, community events, and lectures.
Today this historic landmark is in danger, and the Auburn State Theatre needs your help to survive.
Save the Auburn State Theatre
Due to the COVID-19 pandemic, the Auburn State Theatre (AST)  was forced to close its doors. During its seven months without events, AST's best minds came up with creative ideas for continuing to entertain the community: outdoor movies, streaming concerts and films, and free "radio shows" performed by the State Theatre Acting Company at community venues.
Now, the AST has been given the go-ahead to reopen at 50% capacity for movies only. With social distancing restrictions, only 125 tickets can be sold for any show. Unfortunately, AST's ticket sales will not come close to covering operating costs.
As a non-profit organization, AST relies on community support to bridge the gap between ticket sales and hard costs for operating the theatre and booking entertainment. Now AST needs your donations more than ever.
Keep the Auburn State Theatre Open and the Marquee Bright!
Auburn State Theatre is asking for your support to "Keep the Theatre Open and the Marquee Bright." 
Auburn State Theatre's fundraising goal to complete reopening is $100,000.
Every donation helps, no matter how much, and is greatly appreciated.
Your support enables AST to schedule events, bring visitors to Auburn, and continue partnering with local groups, including:
Arts Council of Placer County 
Auburn Symphony
Auburn Winds 
Colla Voce Chamber Singers 
Protect American River Canyons 
Take Note Troupe 
Auburn Elementary School District
Foresthill Divide Elementary School
Harvest Ridge Charter School 
United Auburn Indian Community School
and more
But it won't happen without you.
 
Please make your donation online today or by sending a check to:
Auburn State Theatre
P.O. Box 7733
Auburn, CA 95604
Tax ID #: 68-0477472
 
With your help, Auburn State Theatre can continue to present world-class entertainment on stage in a beautiful and historic venue; continue to screen documentaries, classic, and new feature films; expand family entertainment; offer a speaker series, and comedy acts for the community.
The Auburn State Theatre looks forward to welcoming you back soon and is grateful for your generosity and support. Please support the Auburn State Theatre today.