5 O'Clock Shadow Elevates Men's Grooming in Downtown Auburn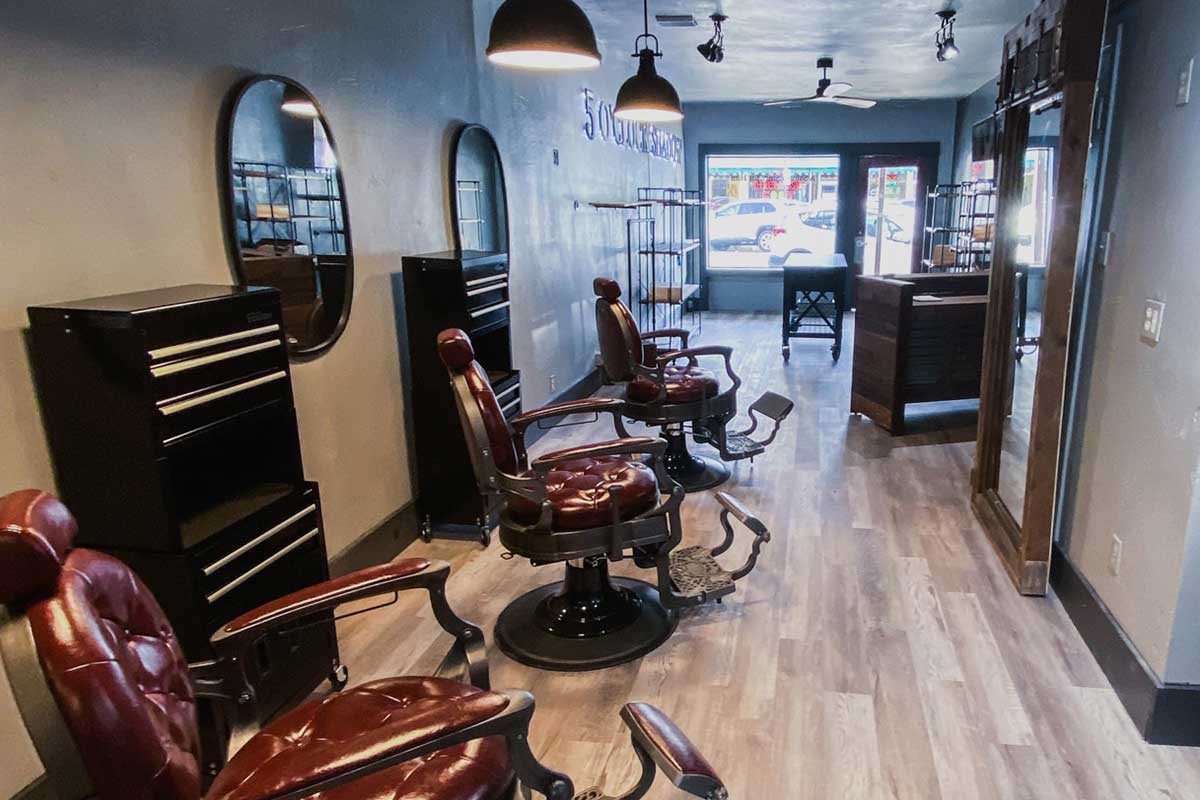 5 O'Clock Shadow is a men's salon offering upscale salon and barbering services in the heart of Downtown Auburn. The salon also offers a wide variety of retail grooming products, including hair care, beard care, facial care, and clothing and accessories.
We spoke to co-owner of 5 O'Clock Shadow Lori Tompkins about beards, brews, and the challenges of opening a men's salon amidst a global pandemic.
Why Downtown Auburn was the Perfect Location
5 O'Clock Shadow owners Lori Tompkins and Vicki Chapman are both Auburn residents who own businesses in the Downtown area and are on the board of the Downtown Auburn Business Association. Chapman is a stylist and owner of Visions Salon and Spa in Downtown Auburn, and Tompkins is the owner of 360° of Auburn, a Downtown gift shop featuring Auburn-branded and locally made gear and gifts.
With two existing businesses in the district, it's no surprise that Tompkins and Chapman selected Downtown as the ideal location to open an upscale men's salon.
"Downtown is definitely the new growing 'hip' area in Auburn," says Tompkins.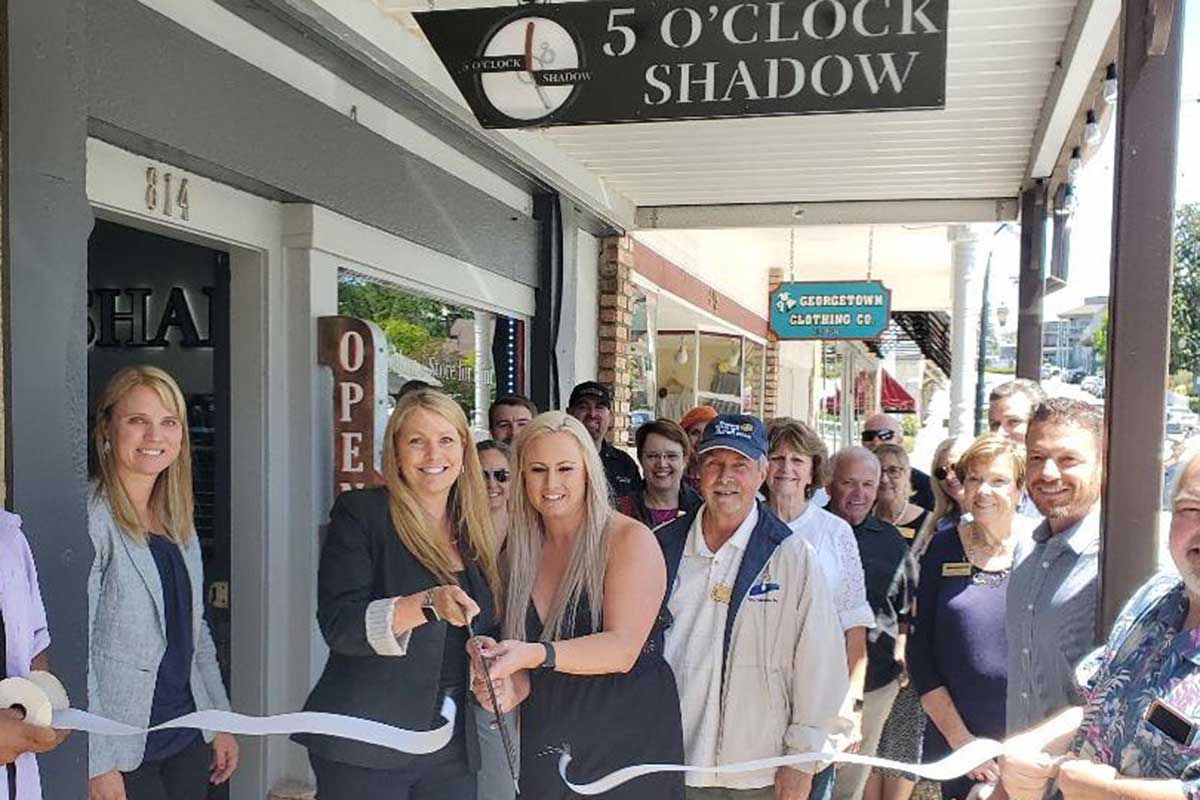 5 O'Clock Shadow is a Luxury Grooming Experience
Don't call 5 O'Clock Shadow a barbershop, because Tompkins and Chapman consider their upscale men's salon a full-service luxury experience, instead. 
"We have four stylists that specialize in men's care from hair, shave, waxing, and even facials," says Tompkins. 
Unlike the typical men's barbershop or salon, 5 O'Clock Shadow is not a walk-in, wait-in-line type of establishment. "We take appointments because we value our clients' time and want to give them the special attention they deserve."
Special attention that includes a whole lot of pampering, a wide range of men's care products, and yes, even a cold beer.
The services offered at 5 O'Clock Shadow include:
Hair cuts
Hair color and highlights
Hot lather shaves
Beard and mustache trims
Brow and sideburn waxing
Facials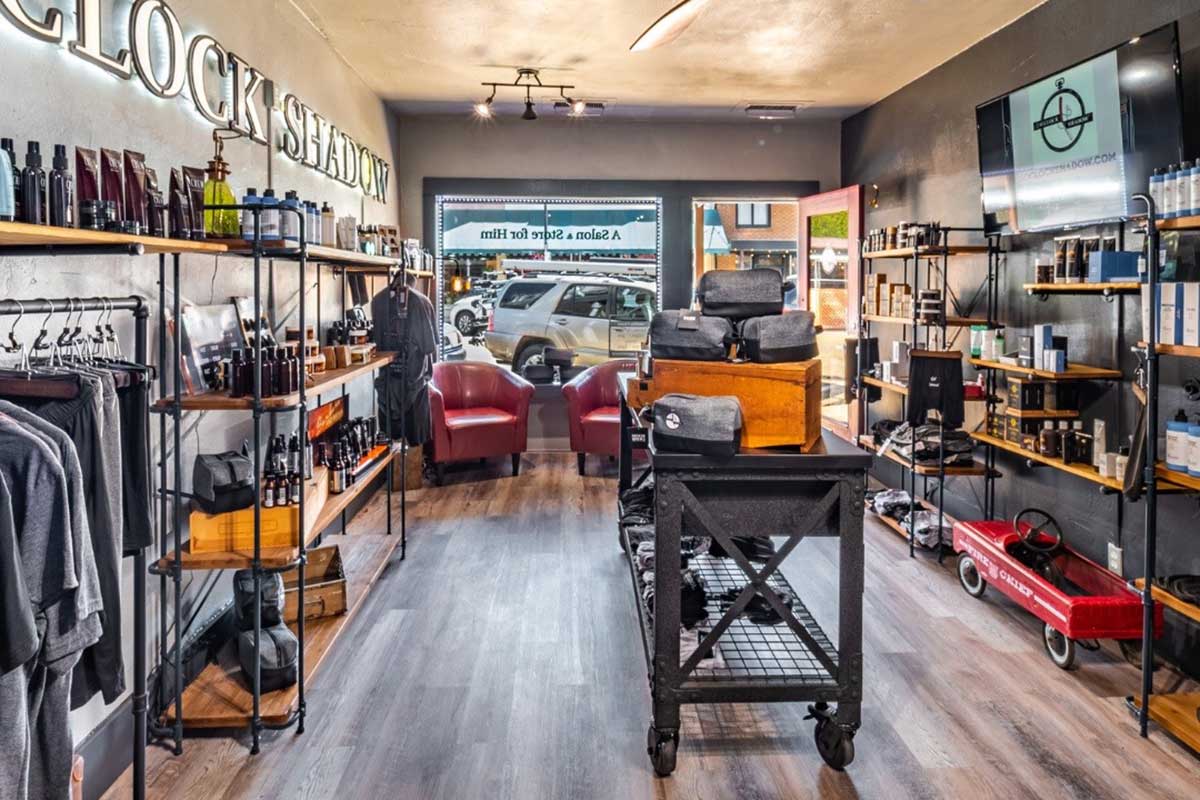 While billed as a men's salon, 5 O'Clock Shadow also offers women's and children's hair services, as well. And with a wide variety of grooming and retail products, it's the perfect place to shop for a gift for anyone who wants an alternative to traditional "women's" flowery-scented hair, shaving, and body products.
Pandemic Opening Challenges
5 O'Clock Shadow premiered in November of 2020, right in the midst of a global pandemic and unprecedented business closures and regulations. "When we opened during COVID, the required closures were definitely a challenge," admits Tompkins. 
"But we are back to normal and just being able to be open is such a blessing."
Schedule Your Appointment at 5 O'Clock Shadow
If you want to go experience the upscale grooming experience at 5 O'Clock Shadow, an appointment is a must. You can book an appointment online at https://5oclockshadow.com/book-appointment. 
Be sure to follow 5 O'Clock Shadow on Facebook and Instagram for updates and business information.
About the Owners
Lori Tompkins has been an Auburn resident for 28 years. Lori raised her children in Auburn, manages Union Bank in Downtown Auburn, and owns two businesses in the Downtown Auburn Business District: 5 O'Clock Shadow and 360° of Auburn. Lori also volunteers with Auburn Rotary and Auburn Downtown Business Association and is on several local service and fundraising committees.
 
Vicki Chapman is a longtime resident raising her 16-year-old daughter in Auburn. Vicki owns two businesses in Downtown Auburn, Visions Salon and Spa, which she purchased 8-years ago when she worked there as a stylist, and 5 O'Clock Shadow. Vicki is on the board of the Auburn Downtown Business Association and volunteers for local fundraising events throughout Auburn.
 
Lori and Vicki have another project for Downtown in the works that they'll announce in November 2021, so stay tuned for more from this dynamic Downtown duo!