5 Can't-miss Fall Events Happening in Auburn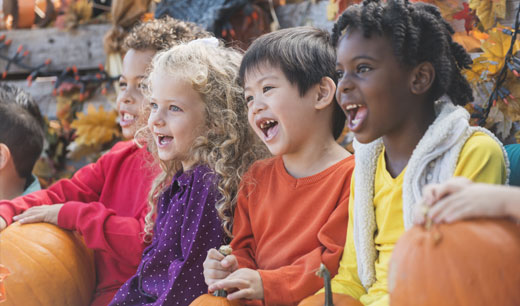 Fall is here, and so are crisp weekend mornings at the farmers' market and spooktacular Halloween adventures.
There's no better place to celebrate the fall season than Auburn, where you can come to shop, eat, have fun with the family, and even trick-or-treat. Whatever your idea of fall looks like, you're sure to find it in Auburn this season.
Here are five fabulous fall events to put on your calendar right now, because you won't want to miss a single one.
1. Safe Trick-or-Treating and Halloween Fun in Old Town
Did you know the Block Building that houses the Auburn Alehouse was built in 1856?
Many of the buildings in Old Town Auburn date back to the 1850s. With such a long history, it's no surprise that Old Town has amassed a fair amount of ghost stories and spook-sightings over the past 170 years.
This haunted history makes Old Town Auburn a prime place for Halloween fun. Whether you're looking for a safe place to trick-or-treat with your kids or want to be scared out of your boots by local spooks, Old Town Auburn is just the ticket for a fun-filled afternoon.
Safe Trick-or-Treat Event in Auburn
Old Town Auburn merchants are dressed to thrill on Halloween and they're handing out treats (no tricks!) to your little goblins and ghouls from 1PM - 4PM.
In addition to the trick-or-treating fun, you can jump on your brooms and zoom over to Herschel Young Park for the Scavenger Hunt from 1:00 p.m. to 4:00 p.m. Pick up instructions from Crimson Tattoo, Re-Find Living, Wizards of Metal, Robyn Marie's Vintage Apparel , The Pour Choice, and Sun River Clothing.
Get yourself selfie-ready and head to Herschel Young Park where a photo stage will be up all day. Take plenty of pics of your brave superheroes, scary monsters, and adorable storybook characters.
A Children's Costume Contest begins at Herschel Young Park at 4:00 p.m.
Halloween in Old Town isn't just for trick-or-treating kids and families, either. There's plenty of fun for everyone. Enjoy happy hour specials at your favorite Old Town restaurants and enjoy the frightening atmosphere of one of the most haunted historical locations in Auburn.
Who knows, you may see one of the district's most notorious spooks, like Old Town's Lady in Red.
When: Tuesday, October 31st 1-4pm
Where: Old Town & Downtown Auburn
2. Gold Country Ghost Tours & Medium Experience
Have you ever wanted to learn more about the historical haunts of Old Town Auburn?
With 10 different stops along the walking tour, the Gold Country Ghost Tour is your chance to be guided through the rich history of one of California's oldest gold rush towns.
The hard work of the Placer County Archives and the Placer County Docent Guild assure that the tour is historically accurate, while cameos by legendary characters – such as Alma Bell, Rattlesnake Dick, and Big Dip – promise to keep it entertaining.
Due to the immense popularity of this event, the 2018 tours – on October 27th and 30th as well as November 3rd – completely sold out within hours of sales opening.
Be sure to follow Gold Country Ghost Tours so that you know the date of ticket sales in advance and don't miss out on the fun in 2019.
Spirit Experience with Psychic Medium Kelly McClure
Still available in 2018 are tickets for another hauntingly fun event – an evening with gifted Psychic Kelly McClure.
Come out for a fun evening and join the amazingly gifted, authentic, charismatic, colorful, and funny Psychic Medium Kelly McClure in beautiful Old Town Auburn for this lively and interactive event.
An evening of fascinating insight on how she receives messages from the other side, lessons learned from spirit, personal stories and anecdotes, Q & A's from audience, and, throughout the evening, Kelly will give a variety of blind spirit readings to audience members from their loved ones.
Get into the "spirit" of the season with a fun evening with a medium in Old Town Auburn. Tickets are still available.
Tickets available for:
November 2nd from 7-9 pm
November 3rd from 8:30-10 pm
3. Auburn Community Harvest Festival
You won't want to miss the family fun at Auburn Community Harvest Festival at Recreation Park. Enjoy live music, pumpkin and scarecrow contests, costume contest and parade. Fun for the kiddos includes carnival games and pony rides, bounce houses, climbing walls and more.
Shop for one-of-a-kind artisan crafts by local artists, and enjoy food and vendor booths hosted by Auburn local non-profits.
Auburn's own Sugar Plump Fairies will also be there, spreading joy as only they can.
With thousands in prizes and wholesome activities planned for the whole family, this is sure to be a spooktacular day at the park. And, thanks to very generous sponsors, it is free of charge! Be sure to check out the event page for details on all the competition times and prizes.
When: Saturday, October 21st from 10 am to 4 pm
Where: Recreation Park
4. Foothill Farmers Market
Saturday morning: Pull on your favorite cozy sweater, grab a canvas bag, and head down to Foothill Farmers Market in Old Town Auburn to get your favorite fresh seasonal produce.
Already stocked up on squash, apples, and persimmons?
With a variety of vendors on hand, you can fill your basket with flowers, bread, nuts, honey, eggs, seafood, and so much more.
Once you've collected your fall bounty, kick your boots up with a hot cup of coffee at a local shop before heading home to start your soup over a low flame, reading a good book while it simmers.
Next Saturday morning: repeat.
When: Every Saturday from 8am to 12pm, Rain or Shine
Where: Old Town Auburn Courthouse Parking Lot
5. Pumpkin Nights
Looking for a spooky and highly entertaining Halloween event for the whole family? With a wide variety of activities and events to fill the night, your family is sure to create magical memories at Pumpkin Nights.
This outdoor festival sets you down a half-mile walking path of over 4,000 hand-carved pumpkins, larger-than-life Halloween displays, multi-sensory experiences, and food and activities for the whole family.
On-site artists carving masterpieces right before your eyes.
Head over to a pumpkin carving station and work your own magic.
Strider Adventure Zone lets little ones get wild with Halloween-themed bike course.
Outdoor movie screenings of Harry Potter and the Nightmare Before Christmas.
Kid-sized maze and face painting, plus much more!
Go ahead and dress for the occasion - costumes are welcome at Pumpkin Nights! Masks are ok, but leave props/ weapons at home.
Whether you come for the ghostly activities or to experience the spellbinding displays, all of the glow and bewitching grandeur is sure to please. What better way to kick off your Halloween fun?
TIP: Before heading to Pumpkin Nights, stop in Old Town Auburn and have a bite to eat or enjoy a happy hour special. Then delight in the beautiful fall weather with a short, 5-minute walk to the fairgrounds.
When: October 17th - November 4th
Hours: 5:30 pm - 10:30 pm
Where: Gold Country Fairgrounds
Autumn is here and so is a fantastic line-up of events you won't want to miss. Enjoy the cooler weather, fall festivities, spooky delights and delicious treats with friends and loved ones in beautiful and historic Auburn this fall.
Want to stay in the know about the latest events in Old Town Auburn? Sign up for our newsletter below!