2019 Summer Event Season Kicks Off in Auburn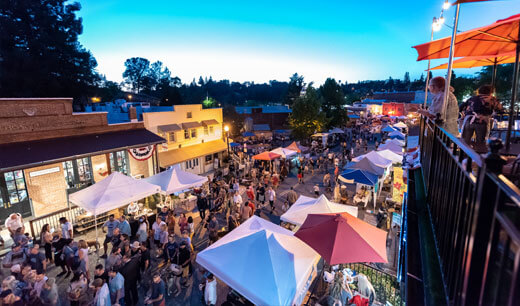 Ready to get out and play? Auburn is kicking off "celebration season" this May with amazing events that you won't find anywhere else. Mark your calendars because you won't want to miss a single one.
May's can't-miss events include:
Auburn Art Walk
Auburn Co-op
Old Town Auburn Antique & Vintage Street Fair
Learn more about these events and mark your calendars for a fun May in Auburn!
1. Auburn Art Walk
May 9th: Downtown Auburn, 5pm to 8pm
The first Auburn Art Walk event takes place on May 9 in Downtown Auburn. Art Walk is a beloved Auburn event that's been reimagined for 2019, with 5 distinct events scheduled in different parts of town.
2019 Art Walk Schedule:
May 9 – Downtown Auburn
June 13 – Old Town Auburn
July 11 – City Hall and School Park Preserve
August 8 – Downtown Auburn
September 12 – Old Town Auburn
Each unique Thursday Night Art Walk event will promote a different Celebrity Artist curator: a guest artist invited to inspire the overarching theme or vision for each of the Art Walk events. The Art Walk committee will then work with local venues, businesses, and artists to implement the vision.
There will be plenty of fun for the whole family at each event, with live music, food vendors, kids activities, and plenty of artistic inspiration.
With each Auburn Art Walk event will planned as a unique experience, you will want to come out to each to enjoy the:
variety of locations
guest artists
activities
art demonstrations
hands-on kids' activities
food and beverage vendors
Visit the Auburn Art Walk website to learn more.
2. Auburn Co-op
May 16th: Old Town Auburn, 5pm to 9pm
UPDATE: Due to the chance of heavy rain and thunderstorms, the May 16th Co-op has be rescheduled to May 23rd.
A hugely popular family-friendly community event, the Auburn Co-op is back by popular demand!
Old Town Auburn will kick off the 2019 Co-op season on May 23rd with all kinds of fantastic entertainment, food and drink vendors, and attractions that you won't want to miss.
All your favorite libations will be available for purchase from local breweries and wineries, including:
Auburn Alehouse Brewery
Crooked Lane Brewery
Dueling Dogs Brewery
Moonraker Brewery
Knee Deep Brewery
PaZa Estate Winery
Vina Castellano Winery
Equal parts street-fair and street-party, the Auburn Co-op is the most celebrated, anticipated event series of the season!
Each Auburn Co-op event brings a unique line-up of entertainment, music, activities, and attractions, such as:
Music
Entertainment
Regional wines
Local brews
Food trucks
OTA restaurant booths
Pop-up activities
Sweets
Seasonal farm fresh offerings
One-of-a-kind handcrafted goods
You won't want to miss any of these unique events – especially the annual kick-off on May 23rd!
For more information on the co-op events, street closures, and parking, see the Auburn Co-op event page.
3. Antique & Vintage Street Fair
May 19th: Old Town Auburn, 8am to 3pm
If you love all things vintage, antique, or collectible, this event is for you. The Antique & Vintage Street Fair is coming to Old Town Auburn on May 19.
This free, family-friendly event brings vendors from near and far, with items that are:
Vintage
Antique
Collectible
Reclaimed
Upcycled
Enjoy local vendors, food, and shopping as you peruse the unique items the Old Town Auburn Antique & Vintage Street Fair has to offer. A rain-or-shine event, this Old Town Auburn tradition is can't miss fun.
For more information, see the Antique & Vintage Street Fair event page.
Come Out to Play in Auburn, CA
Auburn is the ultimate destination for spring and summer events that are family-friendly, festive, and free. There's no doubt about it: event season is here. Enjoy your favorite local food, drinks, music, entertainment, shopping, art, culture, and community at these events. The fun lasts all summer long, but you won't want to miss a single one.
Image courtesy of Jeremy Burke - J Burke Photos - instagram @j.burkephotos